LifePack 1-Person
This is an already packed backpack that weighs in at under 30lbs and has all the essentials and extras needed to survive for 1 week almost anywhere.
You can pre-order the LifePack on Indiegogo.
You can also pre-order here.
The 1-Person LifePack has all the essentials and loads of extras to help you survive and thrive in any setting.  Things like a camp chair, solar energy kit, shovel, and playing cards may not be essential for survival, however, there are many emergency settings where these items would add to your comfort and enjoyment.  Retail value of all items in the pack exceeds $1,000.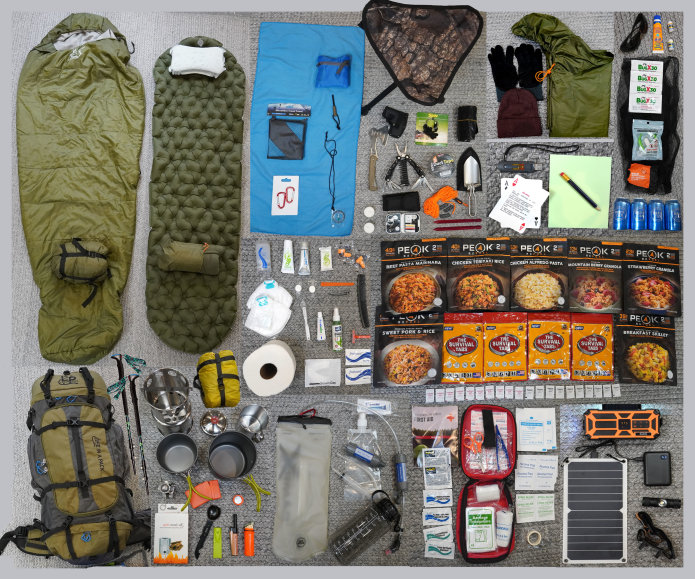 All LifePacks include the following categories of items: Over 30 items custom designed just for our LifePack.
Backpack (each pack includes one or more adult backpacks, and small daypacks)
Tent (Includes Tent (1, 2, or 4 person) and Trekking Poles)
Sleeping Gear (sleeping bag(s), sleeping pad(s), pillow(s), fleece blanket(s))
Food (8 Freeze-Dried Dinner servings and 6 breakfast servings per person, and a bonus additional 8 days of survival tablets per person; we also include basics like salt and pepper… (*4 dinner meal packs with 2 servings each pack, and 3 breakfast meal packs with 2 servings each)
Water (4 cans of 50-year water per person, water filter, and water purification tablets, hydration pack…) Although it isn't possible to carry enough water for 7 days, its easy to carry a water filter and purification tablets so that you can purify all the water you need
Lighting and Electrical (headlamp, battery pack, solar panel, and emergency radio)
Cooking and eating gear (pots, biofuel stove, gas burner stove, spork, knife, mug, water bottle…)
Outerwear (poncho, gloves, beanie…)
Sun and Bug Protection (Sunglasses, sunscreen, lip balm, bug repellent, bug mesh…)
Fun and Personal (Life in a Pack playing cards, USB drive to store your digital items, journal, pencil…)
Camp Gear (camp chair, towel, multi-tool knife, compass, shovel, duct tape, sewing kit, and much more…)
Fire (matches, lighter, fire starter, candles…)
First Aid (everything from bandages to ibuprofen…)
Personal Hygiene Kit (everything from a roll of TP to toothbrush and razor…)
There are over 30 items in each LifePack that were custom designed just for our LifePack, and will keep you going in almost any setting for 7 days.  The items are already packed and organized by category. The retail value of each LifePack is double to triple our Indiegogo prices. So don't hesitate, help us fund our project and get a LifePack at an amazing price.
Although we can't predict what challenges life will bring, at Life in a Pack we believe that being prepared can turn a potential disaster into an adventure.  The goal of LifePack is to help you be prepared for whatever Adventures life brings your way.