Please note that we have not yet finalized all items and some items are subject to change.
$395 Essentials LifePack
The Essentials Pack has over $800.00 in gear, already packed and ready for adventure: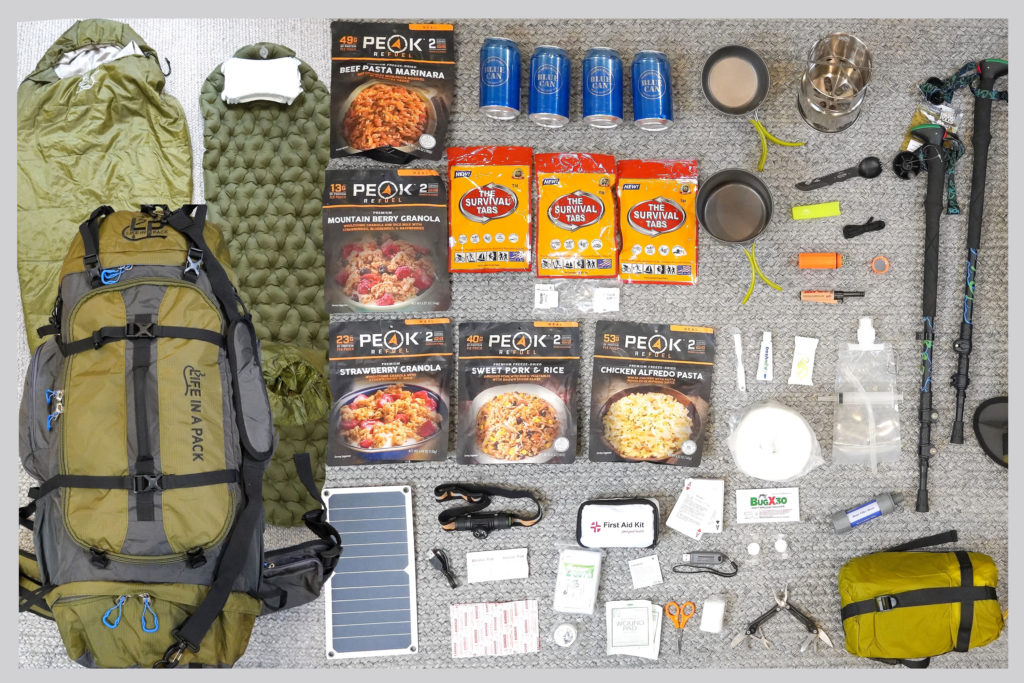 Backpack (MSRP $149.00)

Key Features include: Adjustable Torso height, gel-padded shoulder harness, 70 Liters, with lots of pockets to hold all the gear, arched internal frame so that your back can breath. (pack weight 4lbs 1 oz. removable rain fly and removable duffle shoulder strap add 6 oz),

Tent (MSRP $179.00)

Your choice of the 1-Person two-layer Trekker Pyramid (weight with compression bag, stakes, and guylines 2 lbs 9 oz,), or Large 2-Person two-layer Trekker Palace (weight with compression bag, stakes, and guylines 3 lbs 3 oz,)

Carbon Fiber Trekking poles (MSRP $79.00) 100% ultralight carbon fiber poles with foam handles (each pole weighs 6.5 oz.)
Sleeping Pad and Pillow, (Pad 18 oz. Pillow 5 oz.) (MSRP $69.00)

Pillow is self inflating, and can be used as a pump to fill the pad.

Large Sleeping Bag (MSRP $49.00) (weight: 2 lbs 8 oz.)
Life In A Pack playing cards (3 oz.)
Biofuel stove (7 oz.), pan & bowl (9 oz.), and spork/knife (2 oz.) (MSRP $49.00)
Solar Panel (4 oz.) and Rechargeable Battery Pack (7 oz., 10,000 MAH) (MSRP $48.00)
Food: 6 servings of Dinner (3 packs, 2 servings each) and 4 servings of Breakfast (3 packs, 2 servings each), with 6 additional days of Survival Tablets (MSRP $88.00) (weight 3lbs 2 oz.)
4 cans of 50-year shelf life water, water filter, and purification tablets (MSRP $37.00)

Water 3lbs 4 oz., Water Filter, plastic water battle, and Purification Tablets 4 oz.

Emergency rechargeable headlamp (4 oz.), Poncho/Tarp (10 oz.), Multi-tool(4 oz.) (MSRP $39.00)
Small first aid kit, sun screen, bug repellant wipes, lip balm, N-95 face mask (5 oz.) (MSRP $19.00)
Small hygiene kit (full roll of TP, tooth brush, tooth past, bio-shampoo and bio-soap)(10 oz.) (MSRP $10.00)
Matches and lighter, fire starter sticks, (3oz.)(MSRP $12.00)
Camp Towel, hand cloth, small cup, compass, carabiners, 25ft guyline rope, Life In A Pack USB Drive. (8 oz. (MSRP $32.00
*total MSRP $884.00
The total pack weight is 22.5 lbs, which includes the water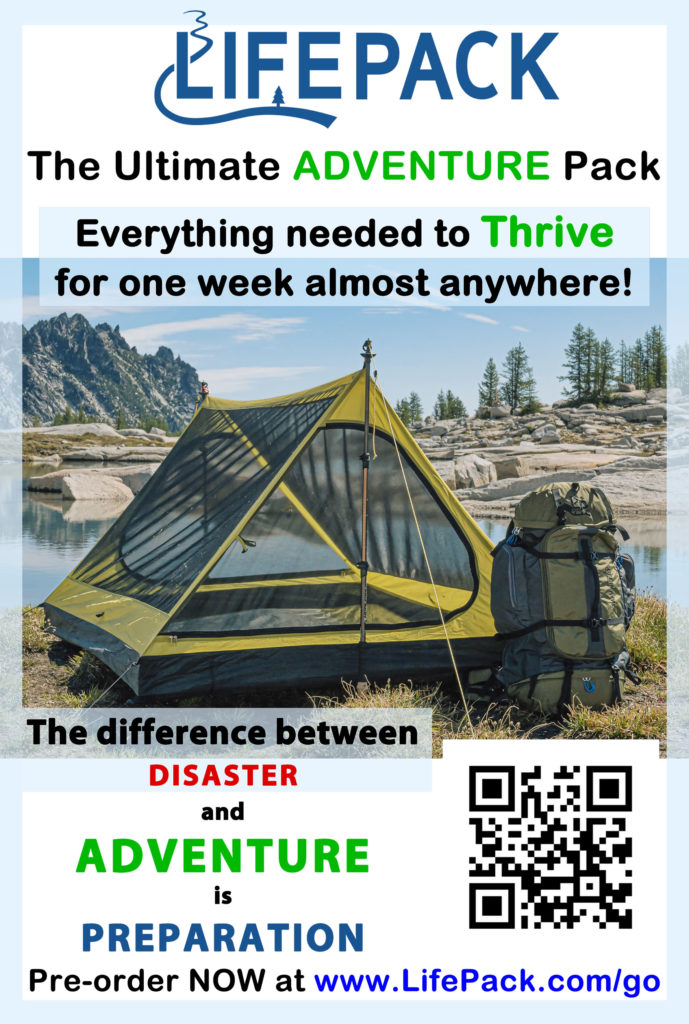 The Below packs will be not be available until 2024
$1,000 LifePack Family Pack
The LifePack Family Pack is perfect for a family of 2 adults and 2 children under the age of 13. It includes 2 adult backpacks and 2 youth packs, packed and ready to go. Because the youth packs are small in size, they are recommended for youth between 7 and 13, For families with teenagers we recommend purchasing the Essential or 1-person Pack for each person in the family. For example, for a family of 3 with 2 adults and 1 teenager we would recommend the 2-person LifePack and one Essential Pack.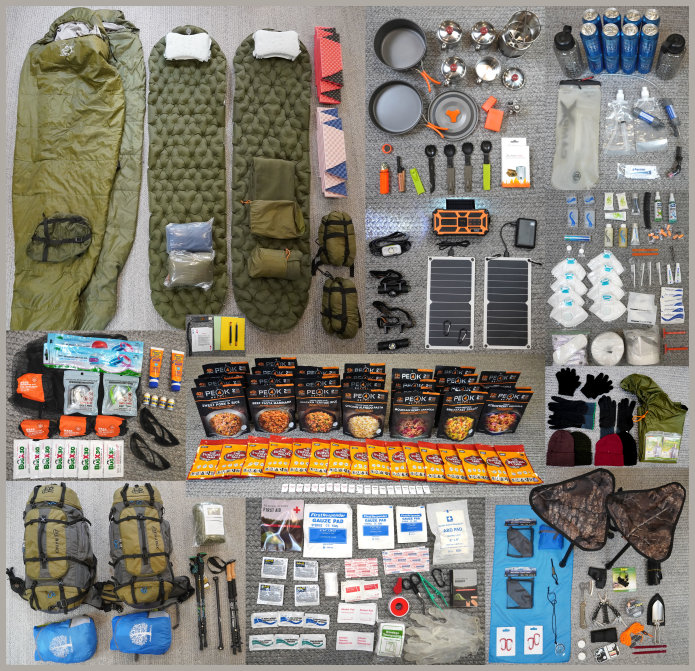 The 4-Person LifePack has all the gear needed for 4 people to survive for one week. With 4 sleeping bags, 4 sleeping pads, over $500 worth of food and water, a larger pot/pan set, and more of all the essentials from toilet paper to sun screen. Sold separately, the items in this family pack have a retail value of over $2,100.
$795 LifePack 2-Person
The 2-person LifePack is designed for two adult sized people, with two full-sized packs, packed and ready to go. Although food water and sleeping gear are in both packs, the remaining gear is split between the two packs, so both packs are required in a survival setting. For example, to distribute the weight evenly between the two packs, the cooking gear may be in one pack and the hygiene products in another. For these reasons, many may prefer to purchase one 1-Person Pack and one Essentials Pack so that both packs have all the essentials, without the need for both packs to make a full kit.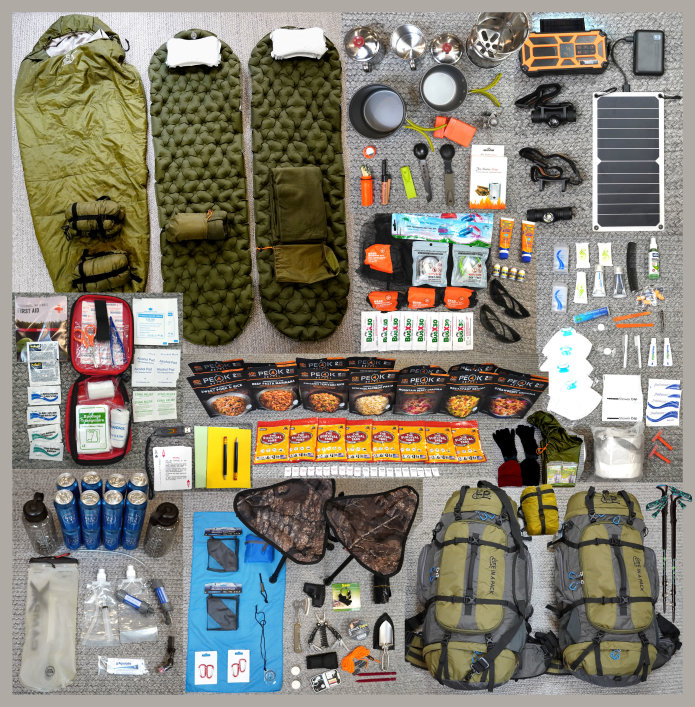 $500 LifePack 1-Person
The 1-Person LifePack has all the essentials and loads of extras to help you survive and thrive in any setting. Things like a camp chair, solar energy kit, shovel, and playing cards may not be essential for survival, however, there are many emergency settings where these items would add to your comfort and enjoyment. Retail value of all items in the pack exceeds $1,000.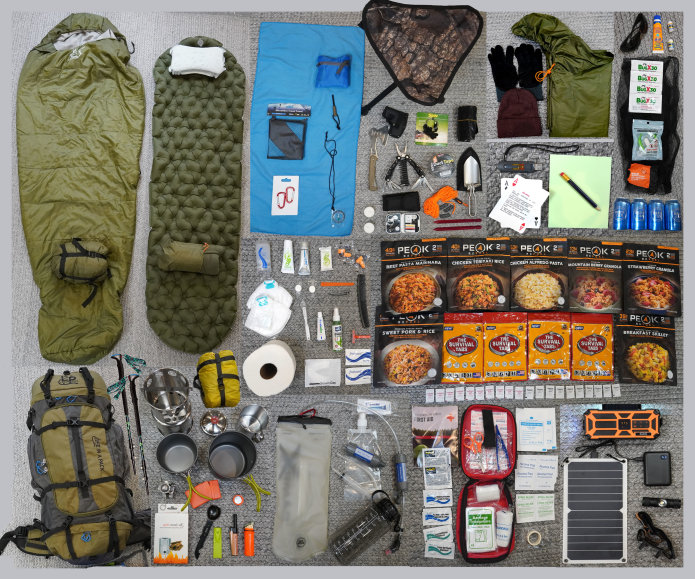 All LifePacks include the following categories of items: Over 30 items custom designed just for our LifePack.
Backpack (each pack includes one or more adult backpacks, and small daypacks)
Tent (Includes Tent (1, 2, or 4 person) and Trekking Poles)
Sleeping Gear (sleeping bag(s), sleeping pad(s), pillow(s), fleece blanket(s))
Food (8 Freeze-Dried Dinner servings and 6 breakfast servings per person, and a bonus additional 8 days of survival tablets per person; we also include basics like salt and pepper… (*4 dinner meal packs with 2 servings each pack, and 3 breakfast meal packs with 2 servings each)
Water (4 cans of 50-year water per person, water filter, and water purification tablets, hydration pack…) Although it isn't possible to carry enough water for 7 days, its easy to carry a water filter and purification tablets so that you can purify all the water you need
Lighting and Electrical (headlamp, battery pack, solar panel, and emergency radio)
Cooking and eating gear (pots, biofuel stove, gas burner stove, spork, knife, mug, water bottle…)
Outerwear (poncho, gloves, beanie…)
Sun and Bug Protection (Sunglasses, sunscreen, lip balm, bug repellent, bug mesh…)
Fun and Personal (Life in a Pack playing cards, USB drive to store your digital items, journal, pencil…)
Camp Gear (camp chair, towel, multi-tool knife, compass, shovel, duct tape, sewing kit, and much more…)
Fire (matches, lighter, fire starter, candles…)
First Aid (everything from bandages to ibuprofen…)
Personal Hygiene Kit (everything from a roll of TP to toothbrush and razor…)
There are over 30 items in each LifePack that were custom designed just for our LifePack, and will keep you going in almost any setting for 7 days. The items are already packed and organized by category.