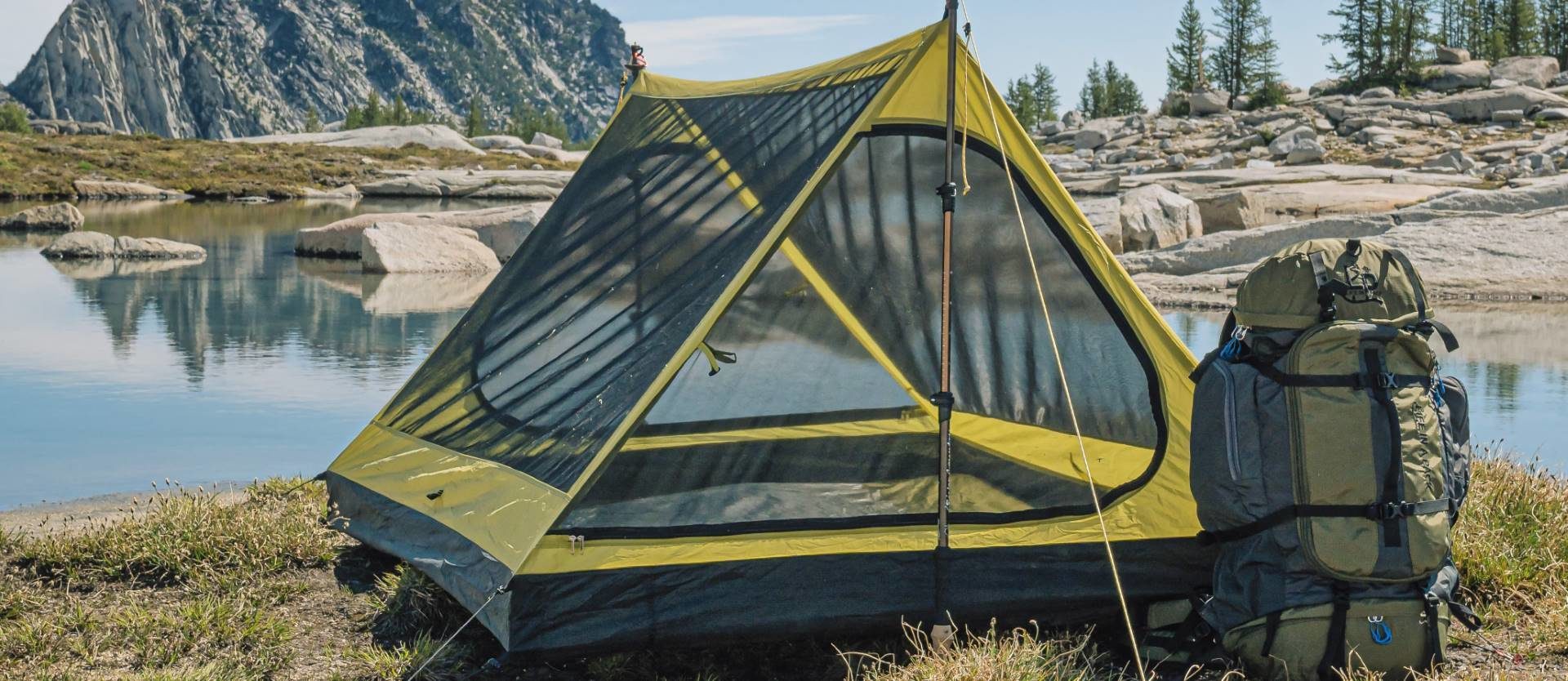 Life In A Pack
The Ultimate 7-Day Adventure Pack
Adventure Happens, and often the difference between surviving and thriving is a matter of perspective and preparation.  LifePack™ is your Ready-to-Go camping, backpacking, outing, and adventure Go-pack.
On Kickstarter, you can pre-order any of our new products developed just for our LifePack. These are items that are not yet on the market like our Trekker Palace Tent ($175 w/trekking poles) or our Life In A Pack Backpack ($125 on Kickstarter). The Two LifePack options on Kickstarter are:
$395 Essentials LifePack – 1 Person

This 1-Person pack contains over $850 in Gear, Food, and Supplies, and is ultra-light at just 22 lbs.

$550 Essentials LifePack – 2 Person
LifePack Adventure Pack
Everyone experiences adventure in their life. Sometimes we choose the adventure, and sometimes we have less of a choice, but sooner or later adventure finds us all. Life In A Pack is about being ready for whatever comes your way: it's about looking for adventure or finding it in the most unlikely places.  We started Life In A Pack after trying out many other "survival" kits and emergency preparedness packs. We realized that there isn't a pack out there that includes all of the necessary gear to do more than survive, but to thrive in any setting.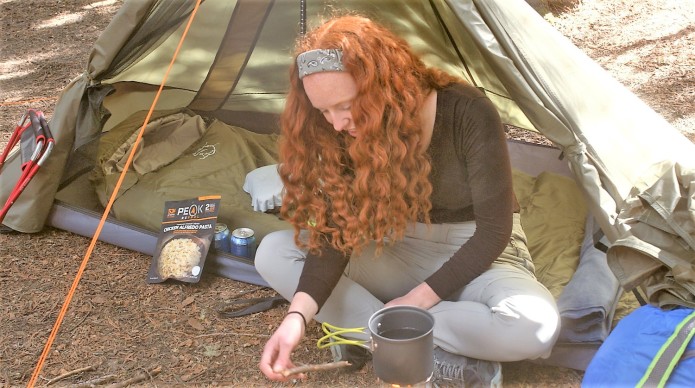 LifePack™ was created by Life In A Pack to be a week-long adventure or backpacking pack. It includes almost everything you need to thrive up to a week anywhere (all you need to add is personal medications and a few other personal items). We don't just include essentials; our LifePack has most everything needed to thrive. Even our minimal Essentials Pack is much more than the Mylar blanket and protein bar that you'll find in most "survival" bags on the market.
$395 Kickstarter Essentials LifePack
The Essentials Pack has over $850 in gear, already packed and ready for adventure: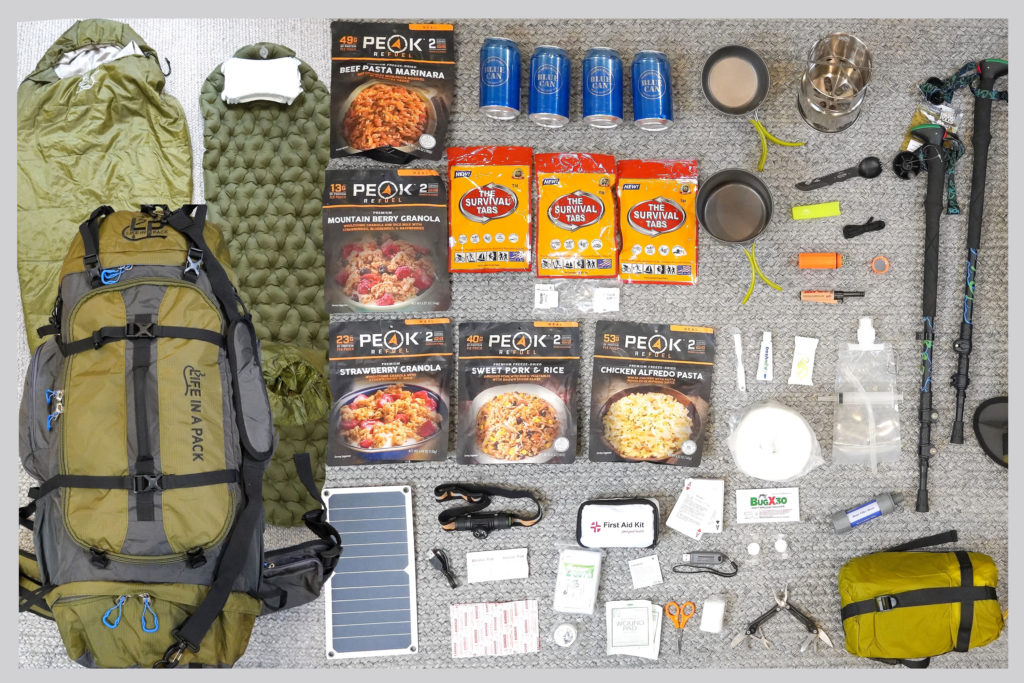 Backpack (MSRP $149)

Key Features include: adjustable torso height, gel-padded shoulder harness, 70L with lots of pockets to hold all the gear, and an arched internal frame so that your back can breathe. (pack weight 4 lbs 1 oz; the removable rainfly and removable duffel shoulder strap add 6 oz),

Tent (MSRP $179)

Your choice of the 1-Person two-layer Trekker Pyramid (weight with compression bag, stakes, and guylines 2 lbs 9 oz,), or Large 2-Person two-layer Trekker Palace (weight with compression bag, stakes, and guylines 3 lbs 3 oz,)

Carbon Fiber Trekking poles (MSRP $79) 100% ultralight carbon fiber poles with foam handles (each pole weighs 6.5 oz.)
Sleeping Pad and Pillow, (Pad 18 oz. Pillow 5 oz.) (MSRP $69)

Pillow is self inflating, and can be used as a pump to fill the pad.

Large Sleeping Bag (MSRP $49) (2 lbs 8 oz)
Life In A Pack playing cards (3 oz.)
Biofuel stove (7 oz), pan & bowl (9 oz), and spork/knife (2 oz) (MSRP $49)
Solar Panel (4 oz) and Rechargeable Battery Pack (7 oz, 10,000 MAH) (MSRP $48)
Food: 6 servings of Dinner (3 packs, 2 servings each) and 4 servings of Breakfast (3 packs, 2 servings each), with 6 additional days of Survival Tablets (MSRP $88) (weight 3 lbs 2 oz)
4 cans of 50-year shelf life water, water filter, and purification tablets  (MSRP $37)

Water 3lbs 4 oz, Water Filter, plastic water battle, and Purification Tablets 4 oz

Emergency rechargeable headlamp (4 oz), Poncho/Tarp (10 oz), Multi-tool (4 oz) (MSRP $39)
Small first aid kit, sun screen, bug repellant wipes, lip balm, N-95 face mask (5 oz) (MSRP $19)
Small hygiene kit (full roll of TP, tooth brush, tooth past, bio-shampoo and bio-soap)(10 oz) (MSRP $10)
Matches and lighter, fire starter sticks, (3 oz)(MSRP $12)
Camp Towel, hand cloth, small cup, compass, carabiners, 25ft guyline rope, Life In A Pack USB Drive. (8 oz) (MSRP $32)
*total MSRP $884
The total pack weight is under 23 lbs, which includes the water, food, and everything packed and ready to use
The Tent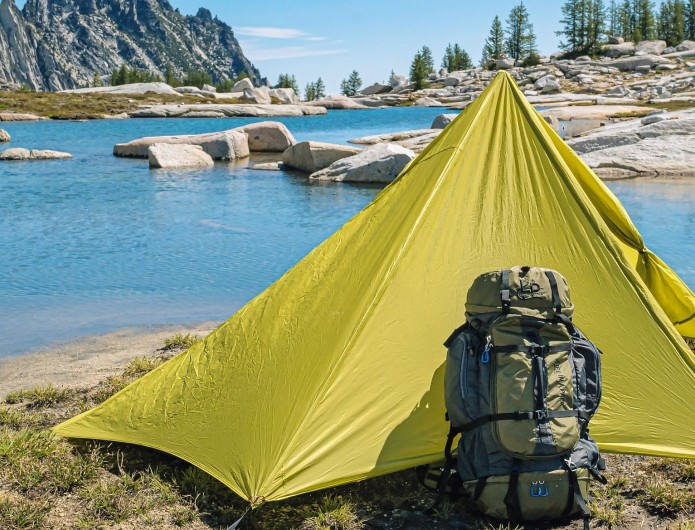 At Life In A Pack, we had several hurdles to overcome: we wanted the entire LifePack to weigh less than 30 lbs, to cost less than $500 (pre-2022, of course), and to include all necessary items including basic food and water, a sleep system and a tent. However, most backpacking tents under 3 lbs cost over $500 and are normally not two-layer tents, so you end up fighting condensation and leaks. Just for the LifePack, we designed both 1- and 2-person trekking pole tents that are 2 full layers and each weigh less than 3 lbs.
The Sleep System
We designed a sleep system where the pillow can be used as the pump for the air pad, and both are comfortable, lightweight and integrate perfectly with the designed companion sleeping bag.
From the backpack to the spork, endless thought and ingenuity went into all of the over 30 items included in our LifePack.
What is LifePack™?
LifePack was created by Life In A Pack to be a week-long emergency preparedness pack or backpacking pack. It includes almost everything you need to survive up to a week anywhere (all you need to add is personal medications and a few other personal items). We don't just include essentials: our LifePack has most everything needed to survive and thrive.
"It's in the Pack"
Innovation
LifePack is much more than a bunch of backpacking gear you could buy yourself. We've designed, modified or developed almost every major item specifically for use with the LifePack.
Custom Backpack
Our custom-designed, 70L backpack was made with usability and comfort in mind. With a large duffel-like opening, it is easy to access gear without taking everything out of the pack, and a duffel strap makes short-term carrying simple.
The backpack is designed for backpacking and has comfortable padded straps, a waist band, and a number of pockets for storing gear.
Survival Playing Cards
At Life in a Pack, we have developed a unique set of lightweight waterproof playing cards. Each card has a helpful advice and information about different survival situations. Our survival playing cards are also made from PVC and are slightly smaller than a normal playing cards, making them durable, waterproof, and perfect for any adventure.
How You Can Help
Supporting us on Indigogo or Kickstarter will allow us to to produce the quantity of LifePacks needed to drive the price down so that we can get this pack in as many people's hands as possible. Ready.gov suggests that everyone should have at least a 72-hour kit packed and ready to go at all times. Right now, about 2% of people have a basic kit, and for most it is no more than a mylar blanket and a protein bar. We want to get this week-long survival/adventure pack in everyone's hands. We need the support to place these large orders to keep costs low and provide everyone with a high-quality pack at an affordable price.
Because many of the items are custom designed for the LifePack, we have high initial costs and need your help. Pads require expensive custom molds to produce. Other items like the newly designed two-layer trekking pole tents require expensive specialty fabrics. In order to keep the cost down, we need to produce as large an initial batch as possible.
Roadmap
We have done the innovation, have many of the tents, backpacks and other gear on hand, but we still need to pay for new molds for some of the items. Although some of the Kickstarter Pledge Perks can ship within a month of the Kickstarter's end date, the essentials LifePack will take several months to put together. If you just want the tent, or the playing cards, these smaller Pledge Perks are only available on Kickstarter.
There are over 30 items in each LifePack that were custom designed just for our LifePack, and will keep you going in almost any setting for 7 days. The items are already packed and organized by category. The retail value of each LifePack is double to triple our Indiegogo prices. So don't hesitate, help us fund our project and get a LifePack at an amazing price.
Although we can't predict what challenges life will bring, at Life in a Pack we believe that being prepared can turn a potential disaster into an adventure. The goal of LifePack is to help you be prepared for whatever Adventures life brings your way.