Essentials Pack
This is an already packed backpack that weighs in at under 20lbs and has all the essentials needed to survive for 1 week almost anywhere.
You can pre-order the essentials pack on either Kickstarter or Indiegogo.  The Indiegogo version includes the 9oz folding foam pad, and is a little lighter and cheaper, the Kickstarter version includes the inflatable air pad with the pillow.
although we would prefer that you choose one of the options above, You can also pre-order here.
The Essentials Pack has over $700.00 in gear, already packed and ready for adventure: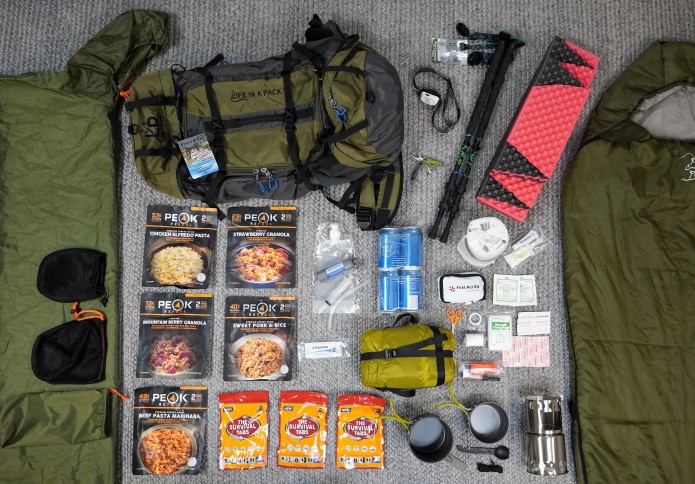 Backpack (MSRP $149.00)
Tent (MSRP $179.00)
Carbon Fiber Trekking poles (MSRP $79.00)
Fish Pad, (insulated folding foam mat) (MSRP $49.00)
Large Sleeping Bag (MSRP $39.00)
4 cans of 50-year shelf life water, water filter, and purification tablets  (MSRP $37.00)
Food: 6 servings of Dinner (3 packs, 2 servings each) and 4 servings of Breakfast (2 packs, 2 servings each), with 6 additional days of Survival Tablets (MSRP $88.00)
Biofuel stove, pan, bowl, and spork/knife (MSRP $49.00)
Emergency rechargeable headlamp, Poncho/Tarp, Multi-tool (MSRP $39.00)
Small first aid kit (MSRP $9.00)
Small hygiene kit (full roll of TP, tooth brush, tooth past, and bio-soap) (MSRP $10.00)
Matches and lighter (MSRP $8.00)
*total MSRP $735.00